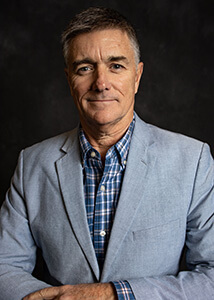 Darrell E. Hester, MD is an expert ophthalmic surgeon who combines over 34 years' experience in a broad range of eye surgeries with current leading technologies and advanced techniques. As a trusted ophthalmologist in Wilmington for more than 26 years, Dr. Hester is known as a dedicated, compassionate surgeon and clinician with superior skill and meticulous attention to detail.
A graduate of the University of North Carolina at Chapel Hill School of Medicine, Dr. Hester completed his training at the UNC Department of Ophthalmology and was the first UNC resident in ophthalmology to perform no-stitch cataract surgery. He has performed laser vision correction since 1997, shortly after the first FDA approval for use of the excimer laser in the United States. Dr. Hester was instrumental in introducing VISX® Advanced CustomVue® laser vision correction to patients in Wilmington and is a certified IntraLase® and VISX® Advanced CustomVue® surgeon. He was one of the first in the region to perform blade free LASIK with the IntraLase femtosecond laser.
Dr. Hester specializes in all aspects of modern cataract surgery including small incision, no-stitch surgery, laser assisted cataract surgery with the LenSx femtosecond laser, combined cataract extraction and astigmatism correction, and implantation of premium intraocular lenses such as the AcrySof® IQ toric and TECNIS® toric IOLs for astigmatism and multifocal lenses such as the Alcon ReSTOR® andTECNIS® Multifocal. Dr. Hester also routinely performs other ophthalmic surgeries including many oculoplastic procedures such as blepharoplasty and ptosis repairs ("eyelid lift") and the correction of eyelid malpositions.
Early in his career, Dr. Hester served in the Air Force Medical Corps in Biloxi, Mississippi at Keesler Medical Center, the Air Force's second largest hospital, where he achieved the rank of major and served as Chief of Ophthalmology. Dr. Hester is a diplomate of the American Board of Ophthalmology and a fellow of the American Academy of Ophthalmology. His other memberships include the New Hanover-Pender County Medical Society of which he is a past President, the North Carolina Medical Society, the American Society of Cataract and Refractive Surgeons, the International Society of Refractive Surgery, and the Christian Ophthalmology Society.
Beginning in 2022 Dr. Hester expanded his surgical practice to southern Ohio, where he serves as cataract surgeon for Southern Ohio Eye Associates. His strong friendship with Dr. Stephen Demick, M.D., owner of Southern Ohio Eye Associates, dates back to the early 1990s when they served together as Air Force ophthalmologists. Dr. Demick chose Dr. Hester to provide expanded surgical options to his patients at the Southern Ohio Eye Surgery Center. This provides Dr. Hester a great reason to fly small planes and the great honor of working alongside Dr. Demick a few days each month.
Dr. Hester is an avid musician and enjoys playing piano, guitar, trumpet, banjo, and assorted other instruments. His many hobbies include general aviation, kiteboarding, boating, and scuba diving. Dr. Hester is a proud father of three adult children and a grandfather to three (so far). He and his wife, Karen, reside in Wilmington.
List of Services:
Cataract Surgery
Laser-Assisted Cataract Surgery
Advanced Technology Intraocular Lens Options
Bladeless LASIK Surgery
Glaucoma
Dry Eye
Oculoplastic Surgeries
General Ophthalmic Care