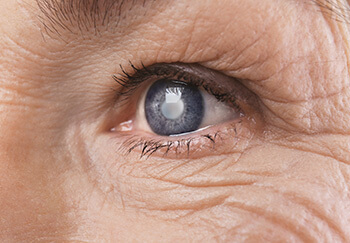 Cataract is a clouding of the normally clear lens of the eye. Cataract is the most common cause of impaired vision and may have a number of causes. Aging is the most common cause of cataract. Cataracts can also form after injury to the eye or develop due to medical conditions such as diabetes and high blood pressure, medications, obesity, smoking, or previous eye surgeries.
In the early stages of cataract patients notice gradually increasing, blurring of their vision and may simply need to change their eyeglass prescription. However, as cataract progress, patients experience progressive but painless reduction in sight which eventually interferes with everyday activities. Mature cataract result in significant visual impairment and handicap the patient.
Individuals with cataract commonly experience:
Blurry vision or perception of haziness
Poor vision at night
Starbursts or halos surrounding lights at night
Increased sensitivity to sunlight
Increased glare (discomfort with streetlights or oncoming headlights)
More difficulty reading and dependence on bright light for reading, even with reading glasses or bifocals
Reduced perception of color – colors appear yellowed or washed-out
Reduced ability to read street signs and traffic signs or signals while driving
Reduced ability to enjoy sporting activities, watching television, etc.
When activities of daily life are significantly impacted by reduced vision due to cataracts, surgery is recommended. Surgery is the only treatment for significant cataract. During cataract surgery, the natural lens of the eye is removed and replaced by an artificial lens through a tiny opening in the front of the eye. (An intraocular lens or IOL.) Most modern cataract surgery is "no stitch" as the openings require no sutures. The eye surgeon performs precise calculations and custom selects the intraocular lens for each eye to clearly focus images on the retina.
Modern cataract surgery typically is a virtually painless outpatient procedure that restores vision and can reduce or eliminate dependence on glasses. Astigmatism, nearsightedness, farsightedness, and even presbyopia (the need for reading glasses) also can be treated at the time of cataract surgery.
Dr. Hester combines his superlative experience, meticulous attention to every detail, and all the latest technologies available to provide you with the best cataract treatment available anywhere. Dr. Hester will carefully help you select your best surgical option based on careful and thorough evaluation of your eyes and visual goals.